Bare Board Test Services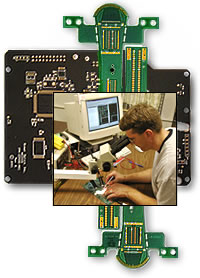 We provide a variety of testing services to support your needs including:
High Voltage Test 10V to 1000V
Flying Probe Test – Low volume, High density, Small features
Large Grid Test, 19" x 25"
Ceramic / Hybrid Testing
HIPOT Testing
Dual Side Test – Low-High volume, All technology
Single Side Test – Low-High volume, Single side SMT
Combinational Testing – Mixed Flying Probe & Fixture.
Troubleshooting and Repair Services
All Materials – Teflon to Flex capabilities.
Test services include Universal, Dedicated and Fixtureless options. Mile High Test uses TTI, Trace & New Systems (Flying Grid) to provide these services. Test requirements from 10 volts – 1000 volts, 10 ohms – 100 Mohm, 1 pc to over 5000pcs

Our Support Services are designed to enhance your test operation and include: Test Fixtures, Netlist programs, & Repair Files to run on your equipment. Everything will be delivered when you need it to complete your order on time.

Additional support includes performing the front-end generation of fixture drill files, test programs and repair file for your facility to drill, assemble and test. You receive expert data preparation to ensure a 100% test at your facility.